Described as the best villas in Lefkas (Daily Telegraph 2013), the Urania Villas are the perfect location for a yoga retreat. Set on a cliff top in a verdant wooded hill overlooking the beautiful bay of Vassiliki in the Greek Ionian Sea, it is a peaceful and secluded spot, perfect for 'anyone who would appreciate watching the sun rise over the sea, gazing out towards the other-worldly silhouettes of Ithaca, Kefalonia and other tiny islands in complete silence' (as described by a review given by the Queen of Retreats).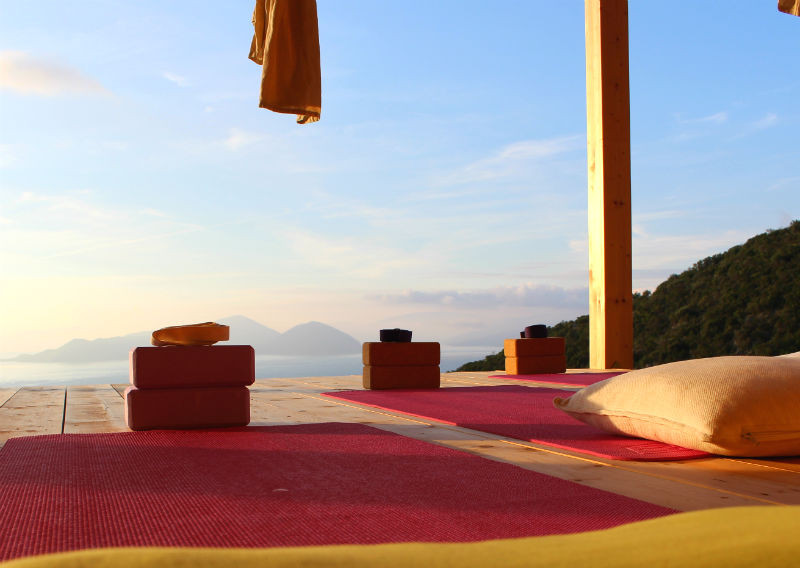 There will be two yoga classes a day each of 90 minutes (with one day off for the island trip) as well as one chanting practice during the week for those who wish to take part. All yoga will take place in the yoga shala with breathtaking views over the sea.
All four villas have three ensuite bedrooms, wooden floors and contemporary furnishings. They are light, airy and spacious, and have their own pool overlooking the bay. Every room has its own view of the sea and neighbouring islands. Wifi is available in all the villas and there is a daily housekeeping service.
Gallery
All meals will be taken together, are vegetarian and served from largely organically grown local produce. Juices and fruit will be available before the morning yoga lesson, with breakfast served afterwards. Lunch will be local salads and typical Greek dishes and dinner will be served after the evening yoga lesson.
There is a private beach some 30 mins walk away and an outing by boat planned mid week to another beach or island as well as a variety of treatments available on site. Vassiliki, which is a well known windsurfing centre, has beaches and shops and is a 30 minute walk away.
Prices
£1,195.00 pp for a shared, twin bedded room
£1,495.00 for single occupancy in a double bedded room
All of these rooms are ensuite. Prices include accommodation, all meals for 7 days and yoga lessons (morning and evening over 6 days). Flights, transfers, excursions, treatments and travel insurance are at extra cost.
Christina and Bea are both experienced yoga teachers and therapists, with a passion for the work they do in the tradition of Sri Krishnamacharya and his son TKV Desikachar.
We can provide flight details and these will be to Preveza which is 90 mins away from the villas and from which we will organise a minibus transfer.
To reserve a place please contact us for a booking form which we would ask to be returned along with a deposit of £350.
For more information please contact either:
Christina: christina@yoga-flow.com or telephone 07980 680 764
Or Bea (www.justbe-yoga.co.uk): beateuten@gmail.com or telephone 07767 795 396